Attorney Profiles
Thomas Oliver Mobley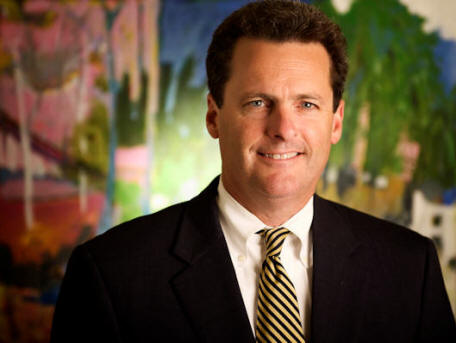 Tom was adopted by Allen and Olive Mobley in Miami, Florida in 1961. His parents soon decided to move to Greenville and Tom was raised in this community. Allen was a small business owner. Olive was a stay-at-home mom for most of Tom's and his also adopted brother's youth. Dedication to community involvement was prevalent during Tom's childhood.
Tom was educated in the public schools at Mitchell Road Elementary and Greenville Middle School. He graduated from Wade Hampton High School in 1979. As a teenager, he worked in many different capacities at the Family Mart, a local grocery store. Although Tom was a member of the high school tennis team, he worked a lot of hours and, until this day, is a much better grocery shopper than Lisa.
In the autumn of 1979, Tom entered The Citadel, The Military College of South Carolina. It was the only school to which he applied and happened to be the school that his Dad suggested he attend. Tom was the first person in his family to go to college and his family was proud. He graduated first in his class in Political Science in 1983.
Tom thought that his family's work ethic and community service would be a natural fit for the legal profession. He enrolled in the School of Law and, while a student in Columbia, South Carolina, Tom continued to work at the Family Mart in Columbia and Greenville. He also worked at a general practice law firm in Columbia. He obtained his Juris Doctor degree from the University of South Carolina School of Law in 1986.
After law school, Tom accepted a position with the Honorable William Howard Ballenger. Clerking for a State Circuit Judge is a job limited in duration, so the invitation to the Greenville County Solicitor's Office in 1988 was a great way to move on and gain valuable courtroom experience. When Mobley Law Firm was founded on May 20, 1991, Tom had spent a little more than two years prosecuting mostly drug related crimes.
Mobley Law Firm opened for business in a house adjacent to the current site with the kind permission of James R. Mann, former member of the United States House of Representatives. Mr. Mann's generosity allowed Tom to get his feet wet in private practice while avoiding much of the normal expense.
Over the years, Tom's focus continued to narrow. Always busy in Family Court, it was certainly his primary area of practice when Lisa joined him at Mobley Law Firm in 1997. Since that time, almost 100% of the work done at Mobley Law Firm has involved Family Court matters. Today, Tom is proud of what Mobley Law Firm has become and he looks forward to many more years of helping families in need.
Tom has devoted much of his time to his children, coaching T-ball, coach's pitch, baseball and soccer at the Cleveland Street YMCA. He also coached soccer at CESA. He has spent many Thursday afternoons helping out at swim meets and served on the Board of Directors at Stone Lake Community Pool. Tom has also chaperoned many field trips over the years, including a couple of times each to the Barrier Islands and Washington, D.C. Currently, he is big supporter of CESA soccer and also an enthusiastic Cheer Dad. He is a member of the Colonel Elias Earle Historic District Association.
Tom is a proud supporter of Safe Harbor, Carolina Ballet Theatre, Arts Alive and Stone Academy, The Peace Center, WNCW, The Greenville Drive, Judson YMCA, Meals on Wheels and Friends of Soccer. He regularly volunteers his time at Upstate Mediation Center.